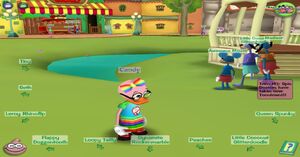 The
Cog Buster Clan
is a clan owned by a pink duck named Candy candy will sometimes be in toon valley toontown central. when you want to join the cog buster clan you need to be true friends with candy or you wont have much fun and she wont be able to tell you somethings you will need to know. i will tell you some of the members of the cog buster clan queen raven silly batty and super flappy ears.
This is a great clan!
This is a great clan!
This clan could crush your clan
You will love this Clan
You can join this clan!
This page needs help.
Is page has been accepted by a Admin.
If you have time, edit this page.
This page could be improved.
This page was improved by a Bot
This page was improved by a Bot
This page was improved by a Bot